Hey guys,
Seeing
Matt's awesome thread about moving the Alta's display
got me wondering if anyone knows of any reasonably priced alternate displays that could be used as a 2nd display on our Altas (if we moved our original Alta displays to a safer location on the bike)?
I like Matt's idea of moving the Alta display to a safer location, but of course don't want to lose the ability to glance down and quickly see that info like you can with a traditional speedo, for example a
KTM or TrailTech Endurance type speedo
: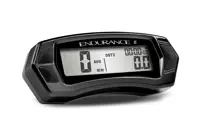 Has anyone figured out if its possible to install a 2nd display that could show what the current Alta display shows? SOC, mph, map selection (1-4). Hours, odometer, trip meter functions would be nice while we're at it, but what I'd really want at a minimum are SOC, mph, map selection. I wouldn't even need the buttton/input capability, a dumb display would be just fine.
I guess another possibility would be to install a stand alone Traitech Endurance (or any number of cheap bicycle) type speedo to display mph, trip miles, but of course it wouldn't be tied into the Altas system, so it wouldn't show SOC, or map selection. If its possible to tap into the Alta's harness, perhaps a separate, small SOC display could be installed and mounted somewhere on the handlebars or near the speedo if a complete speedo like the Endurance could not be found, or modified to tap into the Alta info?
It's been almost 2 years since there's been any updates on this thread "
Display alternative with additional features
", but it seems like its possible to tap into the Atlas harness and display the data. The OP on that thread did some great work, but it sounded like he was aiming for collecting and displaying a lot more data, and at a much higher price, then I would need or want.
2nd Display Feature List:
2nd SOC/Speedo display (that allows the stock Alta display to moved to a safer location on the bike, but still displays the Alta display data)
2nd display is small enough to be mounted where a typical dirt bike speedo is mounted (in front of the bars behind the number plate/headlight plastics).
2nd display data:

SOC
MPH
Map selection (1-4)

2nd display optional data

Hours
Odometer
Trip 1
Trip 2

2nd display optional functionality: buttons that mimic the stock Alta display button's functionality.
Ruggedized: waterproof, shockproof, etc.
Anybody got any ideas here?
Thanks. -Ed